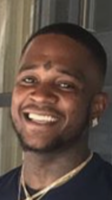 Basim Q Gilliard
Basim Quentin Gilliard was born November 13, 1991 to Frengy L. Shields and Hakim-Ali Gilliard. Affectionately known as "Bas" he attended and graduated from the Pennsauken Public school system in 2010. He was an honor roll student until his junior year. After graduation, he attended Morgan State University.
While Basim received most of his guidance, support and values from his biggest fan "Mom". He also was surrounded and clothed with love and dedication from his close-knit family, which includes his great grandmother Lucinda (predeceased), "Grand mom", Margaret, Big brother "Buk" and Aunts: "Biggy and Tinsy".
He was always looking for ways to make you comfortable, which included opportunities to make you smile. Basim was very conscientious about his beautiful smile and kept up with his regular dentist appointments. Whether he was serving you his famous sautéed crabs or making you, laugh at his silly imitations of friends and family. He was always trying to get the best out of you. Bas enjoyed bonding with family especially his Big Brother Arnold (Buk). He also loved to place bets at the casino in his spare time. Basim had a big heart and it was nothing for him to help a friend in need.
Basim was a devoted father who enjoyed a daily ritual with his baby boy. Bas would helped Bas, Jr. start their day by brushing their teeth together before getting dressed for school. In addition, he would prepare breakfast before getting him off to school. In order to be the best dad and provider, Basim would work long hard hours for his family at Paulsboro Marine Terminal as a Port Operator. He was employed at the Terminal for the past few years before his life journey home ended on September 16, 2018.
Basim accepted Christ as his Lord and Savior in 2014. He leaves to cherish his memories Basim Q. Gilliard, Jr.; a loving, dedicated mother Frengy L. Shields; brothers: Arnold (Ashanti), Hakim Ali-Gilliard, Bilal Ali-Gilliard, Aamir Ali-Gilliard, Nasir Ali-Gilliard, Anthony Gilliard (deceased); a sister Cheraina Jamila Natasha Walker; his grandmothers Margaret L. Shields and Carolyn Cream-Swiggit; two special aunts: Kiesha Gue (Jean) and Kiyetta Shields (Andrew); Great Aunts: Alberta Shields, Corrine Shields, and Jeannie Mae Shields; A very special uncle Kareem Gilliard; nieces: Summer, Autumn, Amorah and a nephew Ashton. A host of cousins, friends, and loving dear girlfriend Marangeli Fortis.