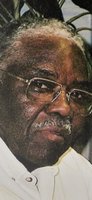 Bernard Thomas
Bernard C. Thomas (Bernie) was born on March 4, 1936 in Camden, NJ to the late, William Augustus & Hazel Thomas.
Bernard was known to everyone as "Bernie". He grew up in Camden, NJ and attended Camden City Public Schools. After High School, Bernard worked for Max Cylinder Auto Supply for 15 yrs. Bernard last place of employment was PSE&G. He was hired as a first class utility service worker and later received a promotion as a Paver. PSE&G was Bernard's dream job because he had a passion for servicing the city residents. After 29 years of employment, Bernard retired to fulfill his dreams of taking vacations, spending quality time with family and friends and his favorite hobby; Carpentry.
Bernard was a loving, devoted and hard-working man with a vibrant personality. He was full of energy and very enthusiastic. Whenever you needed him he was there; setting up for family BBQ's, making home repairs, being the neighborhood landscaper and a personal taxi driver for those that needed rides. Bernard was the Jack of all trades, he spent a lot of his time at Home Depot purchasing supplies and material for projects. He was known as "Mr. Fix it." Every Saturday or Sunday morning he had a project at home or someone else's house. Bernard never looked for anyone to give him a nickel or dime for his services, he was always willing to lend a helping hand to whomever was in need. Bernard was a man that would give you his last; he would give you the shirt off his back in a heartbeat. Bernard enjoyed spending time with his family and taking pictures. Creating fond memories and capturing every moment was very important to him. Bernard enjoyed hosting family gatherings, always filled of laughter and dancing to oldies; doing his favorite two~ step with his lovely wife, Blanche. Bernard and Blanche was known to dance the night away. He was a great host, all while enjoying special moments with family. Bernard loved his children and grandchildren, great grandchildren; he would always be at their beck and call. They would call and say, "Pop I need a ride" or Pop can you fix it" or "Pop pick the kids up" and " Bern take mom a newspaper and coffee cross town." Whatever was asked of him, he did, without hesitation. Bernard's children, grandchildren and great grandchildren wanted for nothing because he spoiled them rotten; when the parents said "NO" he would say "Yes. " Now who will continue to live out his legacy? He was a man who filled many shoes in his 82 years of life. After reflecting on his life, we all realize why it's so hard to say goodbye. Now, it's time to turn in his old shoes, to purchase a new pair in Heaven.
Bernard leaves to mourn, his wife Blanche M. Thomas; predeceased mother and father William Augustus & Hazel Thomas. Five daughters predeceased Thelma Hudson; Angel Harbison; Andera Cephas; Vanessa Brown; Bridgette Brown (John); Four sons predeceased Gary Hudson (Jeanette) Joseph Brown (Marva) Stephon "Tap" Brown (Rhonda) Jamal Brown. Predeceased brothers; Wilbert Davis; Holland Thomas; Edward Thomas; predeceased sisters; Ernestine Burley; Evelyn Williams; Whyotta Davis; Lynn Thomas. Four brothers; Maurice Thomas; Martin Thomas (Annette) Howard Thomas; Roland Thomas; Three sisters; Hazel Lee Briggs (John) Paulie Thomas; Henrietta Davis; Four Grandchildren Lavonne Harbison- Moore, Timothy Harbison, Shaterri Alston, Terry Alston; A special granddaughter "Nurse Ratchet" Takera Dingle along with a host of grandchildren, great grandchildren, family and friends.